We're excited to announce that we've exclusively partnered up with Fitness First, to provide you with a holistic fitness & nutrition experience.
This partnership provides our community with access to state-of-the-art gym facilities and fitness classes from Fitness First, while making YoloFoods a key partner to nourish and support the team at Fitness First and their client-base. Read on below for the full details of this partnership: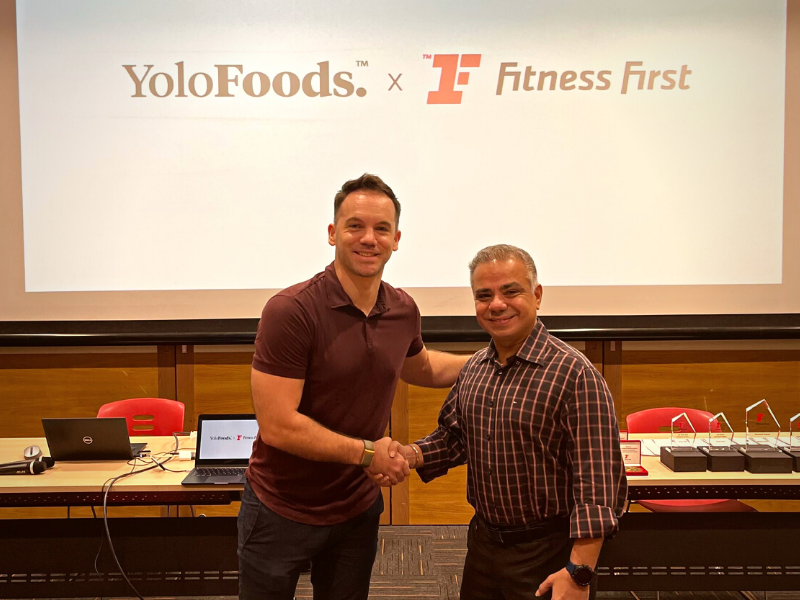 YOLOFOODS AND FITNESS FIRST PARTNER UP TO MAKE HEALTHY EATING MORE EASILY ACCESSIBLE
Healthy eating and exercise go hand-in-hand as both are crucial for maintaining physical and mental health. Eating a balanced diet provides the body with essential nutrients and energy needed for daily activities, and exercise, while regular exercise helps in burning calories, improving cardiovascular health, building muscle, and maintaining a healthy weight. Together, they help in promoting overall wellness and reducing the risk of chronic diseases. However, given the fast-paced lifestyles consumers today lead, it can sometimes be challenging to stay on top of exercise and nutrition needs, sometimes sacrificing one for the other. Recognising these factors, YoloFoods, a leading provider of nutritious and delicious food products, has teamed up with market-leading fitness brand Fitness First, to promote and make healthy living more easily accessible for their customers.

This partnership will bring together YoloFoods' commitment to providing high-quality, healthy food options and Fitness First's expertise in fitness and exercise programming to offer customers a comprehensive approach to a healthy lifestyle. Through this partnership, Fitness First members can enjoy up to 25% discount on all YoloFoods products, giving them access to nutritious and affordable meals while working out. The two brands will also combine their respective expertise to create exciting content as well as provide exclusive benefits to their communities.

"We are thrilled to partner with Fitness First, a company that shares our commitment to promoting healthy living and wellness," said Alexis Bauduin, YoloFoods's CEO. "By teaming up with Fitness First and promoting our products throughout their network of prestigious clubs across the island, we can make it even easier for people to understand and adopt a healthier lifestyle."

"You may have heard of the saying, 'You can't outrun a bad diet', which basically means that you can't make up for a bad diet by simply exercising more. It's important to align your exercise routine with good eating habits for long term health and sustainable results, and preventing many types of diseases. We hope that the range of YoloFoods products will be well-received by our members, and support them in going further on their fitness journey," said Anil Chugani, Managing Director, Fitness First Singapore.